As an Amazon affiliate, we may earn a small commision from qualifying purchases.
Nail guns are not made equal- some are great for framing, others for trim work, and others for siding.
There are models build specially for fencing projects too.
We have previously looked at the best nail gun for trim, recommended nail guns for cedar shingles, best nailers for hardie siding, and many other types of nail guns so fencing nail guns will be our focus in this article.
First, what is the best nail gun to use for a wooden fence?
Well, the battle is mainly between two types of nail guns: framing nailers and dedicated fencing nailers/staplers.
We look at the suitability of each in detail next:
What nail gun to use for a fence?
As mentioned, homeowners have to choose between a framing nailer and specialized fencing nailers such as the Dewalt nail gun for fencing / Dewalt fence staple gun for the most part.
But which exactly is the right nail gun for building fences?
Now, in general, here is what you should know:
About framing nailers
Framing nailers are designed for heavy-duty jobs roof sheathing, deck building, sub-flooring, and (naturally) framing.
These nail guns sink larger gauge nails – from 0.113" to 0.131" in diameter- with lengths ranging from 1-1/4" to 3-1/2" which are most commonly used for nailing larger pieces of wood.
This makes them one of the best choices for fencing projects too.
About fencing nailers /staple guns
Fencing nail guns and staplers are essentially specially-built framing nailers that may be more suited to heavy finishing work.
These mainly fasten slats and similar detailed pieces included in the fence design.
So, what nail gun is best for fencing?
Now, the issue with fencing jobs is that there's a wide range of materials – could be you're fixing cedar fence panels, wood planks/boards to posts, etc.
As such, the correct nail gun comes down to the type of fencing material you're tackling.
Here is a summary to point you in the right direction:
· When to use a framing nailer for fencing
A framing gun carries the day for fencing work if you're fastening boards or wood planks to wooden posts.
This includes projects involving building privacy fences, picket fences, pet fences, post/rail fences, etc.
Side Note: In general, you'll require a framing mailer that shoots 2" to 31/2" length nails for this job.
· When to use a fencing stapler
Use a fence stapler when affixing wire (or mesh) to fence posts. This is often the case in cattle, hog, and chicken fencing.
You're also like to be better off with a tool like the freeman 10.5 gauge fencing stapler in the following projects:
Barbed-wire fencing.
Garden fencing.
Pet enclosures.
Electrified single-wire fencing.
Vineyard trellising/fencing.
All types of welded wire fences.
The greatest advantage of staple guns is that they tend to be lighter and way easier to nail with than framing nail guns.
Side Note: You can also go for a brad nailer-staple gun combo such as this popular 20V cordless 2-in-1 brad nailer/staple gun tool for lighter fencing materials. The gun is quite versatile and can be useful for tons of other projects. There are great air versions too (here is one).
What nail gun to use for a fence – our picks for the job
In this section, we will reveal our favorite framing nailers as well as staplers for fencing.
You can opt to purchase the tool if you're frequently receiving requests for fencing or get it on rental for one-off fencing projects.
Let's get started:
What nail gun to use for a fence- Top 3 framing nailers for fencing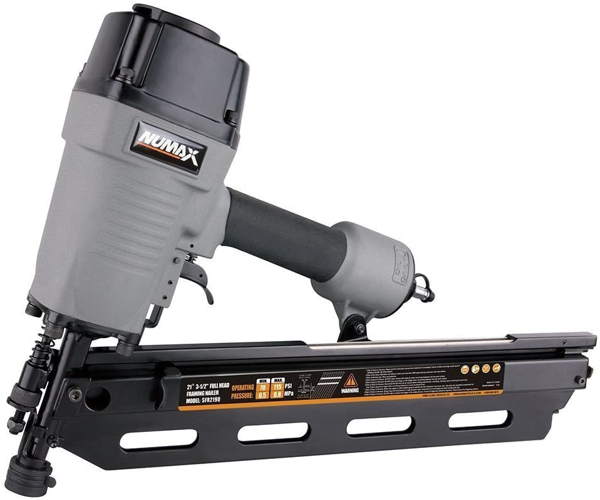 This pneumatic nail gun features a handy 360° adjustable exhaust, tool-free depth adjustment, wonderful comfort grip, and works greats for building fences.
Plus, you can't beat the numax 21 degree framing nailer 's price!
Key specifications
Fasteners: 2" – 3.5", .113" – .131" (10 – 12GA) -21 degrees
Magazine capacity: 55 pcs
Operating pressure: 70 – 115PSI
Overall weight:6 pounds
Other notable features
No Mar Tip.
No slip teeth.
Anti-dry fire.
¼" NPT fitting.
Interchangeable triggers.
Magnesium construction.
Air filter/ant-dust cap.
Pros
Ergonomic design.
Fantastic price.
Easy to use.
Cons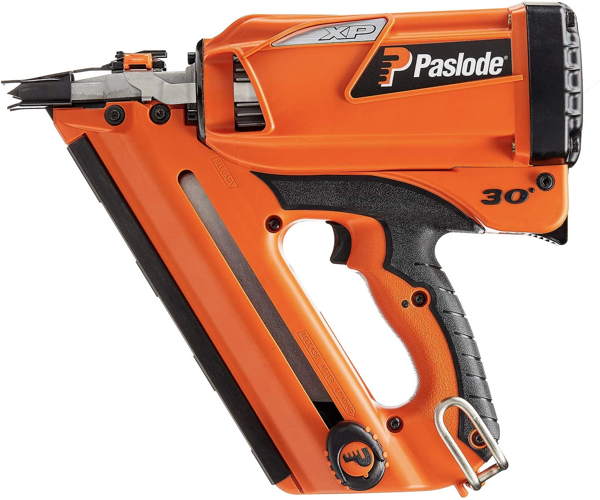 If you're a professional Handyman and the idea of dragging out an air compressor doesn't exactly appeal to you, this may be the best choice.
It sinks nails superbly (it's almost fun), rarely jams (and jam clearance is easy on the infrequent occasions it occurs), and has a good battery.
Most importantly, charging/recharging the battery takes very little time.
In short, the Paslode cordless xp framing nailer is perfect for fencing applications.
Key specifications
Fasteners: 2" – 3¼", .113 – .131" shank diameters,
Magazine capacity: 1 strip
Overall weight:2 pounds
Battery: 7V Li-ion Battery- shoots up to 9000 fasteners per charge
Other notable features
Improved all season formula – it works in temperatures as down as 14°F.
Compact Design- great in tight spaces.
Battery standby position- helps conserves battery power
Reversible belt hook.
Nail lock-out (to prevent blank driving).
Pros
Reasonably lightweight.
Super powerful.
Reloading of nail and fuel is easy and fast.
Cons
Needs gas –in our opinion, the cost of fuel makes it a bit expensive.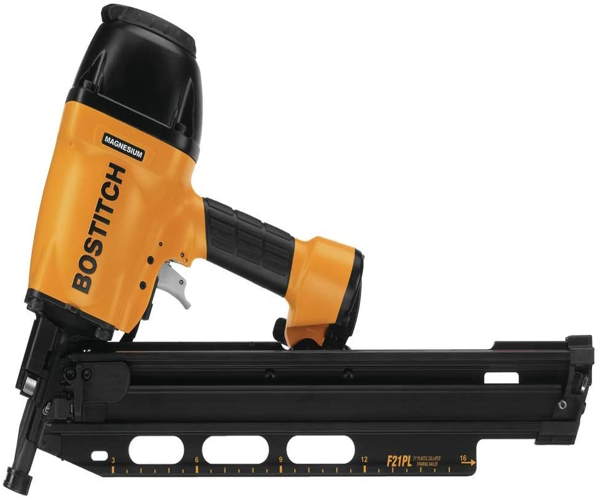 This nail gun is also among the top rated models on the market and shines for fencing and sheds– just feed the right nails and you'll be good to go.
We must add that it accepts a variety of fasteners for fencing.
Key specifications
Fasteners: 1-1/2 inch – 3.5 inch (21 degrees)
Operating Pressure :80 to 120 psi
Magazine Capacity: 60 (bottom loading).
Overall weight:1 pounds
Other notable features
Sequential or bump trigger
Adjustable rafter hook
Push-button adjustable depth guide
Lightweight magnesium construction
Pros
Runs flawlessly
Smooth adjustable depth feature.
High quality unit.
Cons
What nail gun to use for a fence- Top 3 staple guns for fencing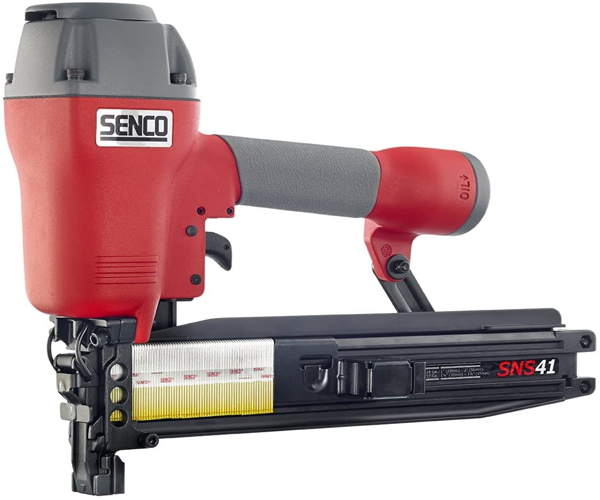 This model works nicely for when it comes to the installation of hundreds of feet of wire fencing..
One of the tool's highlights is the trigger mechanism – it allows to staple rapidly into wood posts making it an incredible time saver.
In addition, jams are alien to this- it typically gets the fence done without making a fuss.
Key specifications
Nails: 7/16-inch (crown staples) (1"-2" long)
Magazine capacity: 160
Overall weight:6 pounds
Operating Pressure: 80 -120 PSI
Air Consumption:4SCFM
Air Inlet:3/8″ NPT
Other notable features
Comfort grip– reduces vibration and fatigue.
EZ-Clear Latch– virtually eliminates downtime due to fastener jams.
360-degree adjustable exhaust – keeps contaminated air away.
Pros
Works like a charm.
Great size.
Durable Construction.
Cons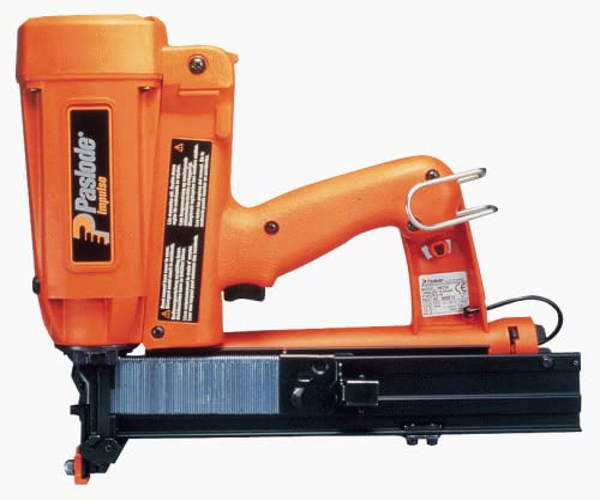 From wood slat fencing, building fences with cedar posts (and aviary netting), to all types of wire fence lines, there's no task beyond this cordless Paslode stapler.
What's more, it can shoot as many as 4000 staples on one charge!
Everything about it oozes class and is the way to go if you're not a fan of pneumatic staplers.
Key specifications
Fasteners: 16-ga staples, ¾"-2" Length (1/2")
Capacity: 150 (2 strips)
Sequential operation: shoots 2 to 3 staples/second
Net Tool Weight:3 lbs
Power:Gas Fuel Cell
Fuel cell life: 2400 nails
Battery cell life: 4000 staples (per charge)
Other notable features
Depth Control:straightforward tool-free adjustment.
Quick-clear nose cover: easy access to eliminate infrequent jams.
Pros
Well balanced for enhanced productivity
Easily adjusts for depth.
Gas cartridge lasts reasonably.
Cons
Fuel cell sold separately.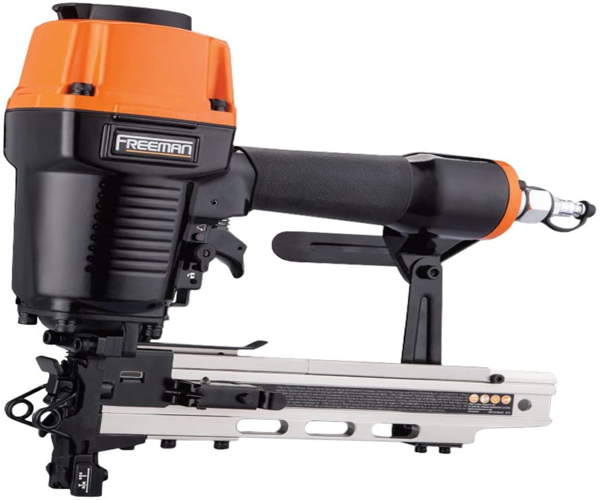 This air-powered fencing stapler drives 10 ½ gauge wire staples and works flawlessly for jobs such as securing cattle fencing, snow control fencing, vineyard trellising, pet enclosures, and other fencing applications.
It pounds staples impressively, is very well balanced, and doesn't need an overly big air compressor to work.
Key specifications
Staples:5ga, 7/8" to 1-9/16" barbed fencing staples (glue collated)
Magazine capacity: 50 pcs
Overall weight:97 pounds
Operating pressure: 70 – 115 psi
Other notable features
Maintenance-free motor – Long life and no bothersome servicing.
Easy jam release mechanism – Quickly remove nails.
Rear exhaust -keeps contaminants away.
Others- belt hook, non-slip comfort grip, optional T-handle (for extra control), wire alignment notch.
Pros
Very durable.
Comes in a delightful plastic molded case.
Shoots staples so well.
Cons
What nail gun to use for a fence – frequently asked question (FAQs)
What size nail gun for fence?
As explained above, you should select a framing nailer for heavier fencing materials and a staple gun for wire fences (and like materials) when it comes to building a fence with a nail gun.
What is the best staple gun for fence pickets?
We would recommend the Metabo HPT NR90AES1  Framing Nailer for picket fences- this framing nailer for fence pickets is a pleasure to nail those pickets with as long as you get the air pressure settings right.
Keep in mind that Metabo HPT tools are the former trusted Hitachi nail guns (the company rebranded).
What nail gun to use for a fence- recap
In summary, a framing gun carries the day for heavier fencing work but for lighter situations, such as when affixing wire (or mesh) to fence posts, a fence staple gun will work best.
Also note that some folks use coil nailers for fencing (the BOSTITCH  N66C-1 Nailer is the best coil nailer for fencing from where we sit) so you've unlimited options.
Hope this helps.