As an Amazon affiliate, we may earn a small commision from qualifying purchases.
With an electric nail gun for trim, you no longer have to drag out the compressor, make the cumbersome connections, wait for the pressure to build up, and listen to your dog barking at the very loud compressor all day!
This post will point you in the right direction if shopping for the best electric nail gun for trim work around homes, offices, and other jobsites.
Side Note: Our reviews include a professional-grade cordless nail gun for trim (here it is if in a hurry) that allows you to shoot almost a house's worth of base or crown on one battery!
Here are our recommended tools for anyone looking for an electric trim nailer that won't skip a beat.
The best Electric nail gun for trim – our 4 nominees
'You can install trim all day on just one charge'
'Full of pro level features'
'Most durable nail gun for trim'
'Solid, very well built, exceeded expectations. Very impressed'
Electric nail gun for trim – Reviews and full specifications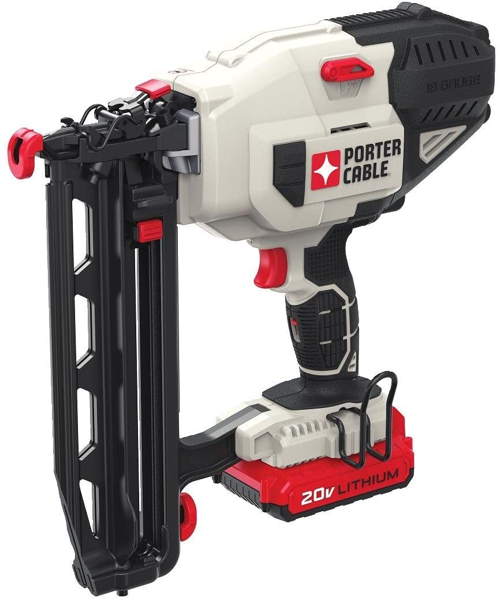 This Porter cable PCC792LA is an amazing trim only nailer.
It operates excellently, it's super accurate, and powerful as a beast.
It's extremely reliable, lightweight, and comes with all the features you'd ask for in a nail gun for trim…
There is a convenient LED light on the face, the usual safety switches including trigger lock-off (you don't want to accidentally fire a nail into yourself), straightforward depth adjustment, and so much more.
The unit's optimized center of gravity means you'll be comfortable all day long.
The battery lasts a significantly long time too.
In short, we can't say enough good things about this nail gun.
Specs at a glance
Voltage:20 Volts
Battery type: Lithium ion
Nail Capacity:100 nails
Magazine: Straight, rear-loading.
Nails:16 Gauge finish nails, 1 Inch to 2-1/2 Inch (straight)
Weight:7 pounds
Other features
Sequential firing mode– shoots with more precision.
Unique Motor design– supplies steady firing power.
Multi-functional dual LEDs –lights up workspaces and helps you read errors.
Others: No mar pad, integrated belt hook
Pros
Easy to load.
Almost never jams.
Terrifically balanced.
Cons
It doesn't come with a case.
Verdict
The PORTER-CABLE 20Volts electric nail gun features countless tool free settings so you'll be more productive and safe.
Be sure to play around with the settings before-hand so that your fasteners seat to the desired depth.
If you're an expert and need high end results when attaching trim, we would suggest this wonderful cordless nail gun for trim.
Dewalt nailers have always been great and this is no exception when it comes to doing trim work around new cabinets, installing crown molding, and more.
It's so accurate nail after nail, nails through any wood (and holds perfectly for heavier trim jobs), and comes with a long-lasting battery (folks have reportedly trimmed a whole house on one charge!).
A bit heavy yes, but the 18volts tool packs a punch and you'll beam with delight every time the nailer goes bang.
And oh, we like the angled head because it allows you to get into tight corners without breaking a sweat.
The depth adjustment works without a glitch and there's a well-placed safety switch for your peace of mind.
This is again strictly a trim nailer!
Specs at a glance
Voltage:18 Volts
Battery type: NiCAD
Nail Capacity:120 nails
Magazine: 20 Degrees angled magazine, rear-loading.
Nails:16 Gauge finish nails, 1-1/4 Inch to 2-1/2 Inch(20-degree angled)
Weight:5 pounds
Other features
Two operating modes- Sequential operating mode (for more precise fasteners placement) or bump operating mode (for production speed).
Tool-less jam clearance- Open access the nosepiece to remove jammed nails.
Contact Trip Lock-Off- Trigger disabled when idle.
Integrated LED lights- Illuminates low-lit or shadowy spots.
Others: No-mar tip, reversible belt hook
Pros
Consistent nail penetration.
90-day money-back guarantee.
Easy to use.
Cons
Verdict
Its weight can be an issue but if you hate moving a loud air compressor in and out of job sites, this is an absolute godsend.
The battery lasts pretty long between charges.
With a brushless motor and a durable engine design, this heavy duty electric nail gun should last for years.
We must mention that cordless nail guns with a brushless motor also tend to offer added performance benefits because they adjust driving power according to the material so it goes without saying that this is not your average tool.
In fact, it excited us with its impeccable accuracy in nail placement- the clear line of sight thanks to the narrow nose is handy as well for accuracy- and the businesslike 20V battery.
Like its competition, its light, nicely balanced, and feels great in the hands.
The friendly depth adjustment wheel and simplistic jam release are also worth highlighting.
Specs at a glance
Voltage:20 Volts
Battery type: Lithium ion (2.0Ah)
Nail Capacity:100 nails
Magazine: Straight, rear-loading.
Nails:16 Gauge finish nails, 1-1/4 Inch to 2-1/2 Inch
Weight:6 pounds
Other features
Tool-Free Selector Switch- switch between contact actuation (bump firing) or sequential modes
Tool-free stall release mechanism– quickly reset its driver blade in case of stalls.
Heavy duty engine- Long lasting construction.
Others: No-mar pad, Belt /Rafter Hook, Multi-functional LED lights.
Pros
Easier to use.
Works perfectly.
Extremely durable.
Cons
Verdict
This is a high performance, long lasting cordless nail specially built for trim from BOSTITCH.
It's a dream in every way- it drives your nails where you want (flush or deeper), the battery shoots a decent amount of time, and is incredibly easy to use.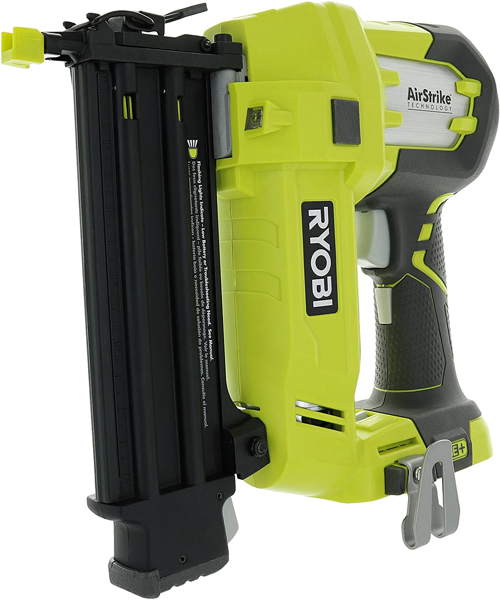 If you have narrowed down on a brad nailer for trim work as opposed to a finish nailer, we recommend this 18 Volt brad nailer from Ryobi.
It ticks all the boxes- from weight, safety, quality control (it's superbly made), and most importantly, allows you to pound brads of different lengths quickly and easily through wood.
It's a brad nailer but trust us; every nail goes in solidly and it works without issues such as brads getting bent/jammed.
It lacks the fancy features you get in the more expensive finish nailers but you can at least effortlessly adjust the depth with the handy onboard dial.
Overall, this is a good option for light trim work.
Specs at a glance
Voltage:18 Volts
Battery type: LITHIUM+™ battery (any 18Volts ONE+™ battery works)
Nail Capacity:105 brad nails
Fasteners Collation: Glue Strip
Nails:18 Gauge brads, 5/8"-2"
Weight: 5 pounds
Other features
Low-nail indicator – easily know when it's time to reload
Others- Belt Clip, built-in LED lighting
Pros
Good size.
Slams nails like a charm.
Quite easy to clear out jams.
Cons
Battery not included- buy separately.
Verdict
This is a solid electric brad nailer for trim (light projects).
As mentioned, it's a simple nail gun but it does what it's supposed to with a minimum of fuss.
Needless to say, it's the most affordable electric nail gun for trim.
Finish or brad nailer for trim?
The key difference between a brad nailer and a finish nail gun is the gauge (thickness) of the nail it shoots.
To begin with, a finish nailer drives thicker fasteners (15 or 16 gauge) while an electric brad nailer such as the Electric Ryobi Nail Gun shoots thinner 18-gauge  nails.
The important thing to understand is that the end product of a finish nailer will have much stronger holding power because of the fatter nails.
Another advantage of a finish nailer is that you can buy a model with an angled head such as the DEWALT DC618K XRP  which makes getting into tight places a snap.
That said, the bigger nails leave larger holes that need further patching up.
A finish nailer may also split skinny trims/narrow boards.
And while a brad nailer has no such problems (the holes are barely noticeable and it can never crack thin materials), they're not the best choice for unusually thick trim and anywhere else where strength is a priority.
Indeed, sometimes the fasteners bend like fishhooks then come out the side/face when you attach window trim, baseboards, etc. with a 18ga brad nailer (depending on the length of the nails).
In a nutshell, a finish nailer (16 ga) is preferred by more carpenters for most trim work and an 18 ga brad nailer for smaller applied moldings.
Plus, the finish nailer is more universal in nature -You can use the tool with a wider variety of materials/surfaces.
However, most experienced trim carpenters lean towards using both tools – the brad nailer for delicate pieces and the finish nailer for larger trim.
Final words
When it comes to finish work, any of these electric nail guns for trim have what it takes to help you nail the end results- choose according to your needs.
One last thing: whatever your choice, it's advisable to have several batteries- that way, power will never an issue when tackling the trim installation/renovation projects.
Over to you.
ALSO READ:
Best nail gun for baseboards- our favorite air and cordless picks