As an Amazon affiliate, we may earn a small commision from qualifying purchases.
If you're about to re-install baseboards, this is for you…
We will not only reveal our top 4 favorite picks for the best nail gun for baseboards but also review them to help you make the right decision when buying a nail gun for baseboards.
Before that, we need to get one key question out of the way…
What type of nail gun for baseboards…15 gauge, 16 gauge, or 18 gauge nailer?
Now, most trim carpenters take the 15 gauge nailer route because it will get in corners best- remember the nail gun features an angled magazine which helps it get closer when it comes to tight spots.
That said, there's a real battle between a 15- and 16-gauge nail guns since both can easily fire fasteners up to 2.5" long, which is typically the ideal length for baseboards.
What makes the 16 gauge finish nailer attractive is the finer finish on base boards – the smaller nails leave less conspicuous holes meaning minimal putty work for you.
Your other option is the brad nailer- it fires the even smaller 18-ga nails, up to 2" long.
These rarely split the thinner trim and molding so a brad nailer will be your best baseboard nail gun when installing shoe molding to cover the gaps between the floor and the baseboards.
The good news is that you can actually buy an 18 gauge angled brad nailer to reduce headaches when working around confined corners.
So, which is the best nail gun for baseboards? Or should you buy all the three?
Well, here is the thing: for most people, the 16 gauge nailer is more of a middle ground and the best way to go if intend to buy just one nailer.
You can still go the 16ga. and 18ga. nailer combo way (have a look at this excellent combo model) if you're having a hard time deciding which to choose.
This way, you can comfortably use the 16-gauge nail gun to install the base then turn to the 18ga nailer for the shoe molding.
Our reviews include the best 15ga nailer, two wonderful 16 ga finish nailers, and the best 18ga nail gun in the market (air and cordless).
Keep reading..
Best nail gun for baseboards- our most recommended picks
'Excellent, versatile nailer. No jambs, no issues at all.'
'Works flawlessly on baseboards. Couldn't be happier.'
'Very reliable and no misses shooting 2-1/2 inch nails into baseboards. Fantastic price as well.'
'A little beast that is very lightweight and extremely easy to use!'
Best nail gun for baseboards- full reviews, pros, and cons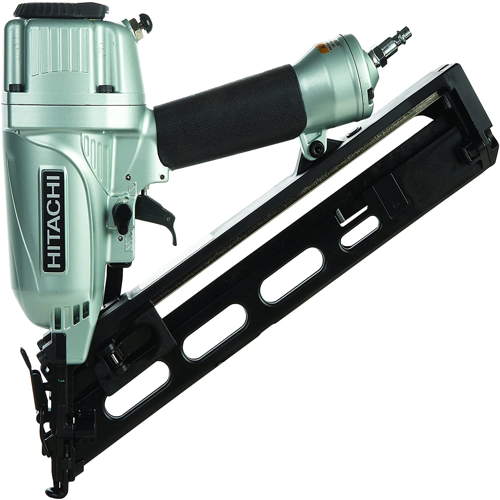 This air finish nailer performs perfectly particularly when installing baseboard and window trim..
It packs plenty of power, is lightweight, accurate, and very well made.
You can forget about stubborn nail jams and the easy to set depth is terrific- it really saves you a lot of time.
Controls are super easy to figure out too.
There are premium features here including the air blaster to remove sawdust from workpieces, a rotating exhaust (to direct air away) and a 34-degree magazine angle to allow you reach into corners with ease.
Bear in mind that Hitachi has since rebranded to Metabo HPT.
Specs at a glance
Operating Pressure: 70-120 PSI
Nail Capacity: 100 nails
Magazine Type: Rear Loading
Magazine Angle: 34 Degrees
Nails: 15-gauge from 1-1/4-inch to 2-1/2inches in length at 34 inch.
Weight:2 pounds
Other features
Selective actuation switch– choose sequential or contact firing.
Rubber grip- reduces fatigue.
Easy clear nose – quick extract jammed nails
No mar tip– prevents dents
Pros
Work with nearly any compressor.
Comes with a solid carrying case.
Shoots pretty fast.
Cons
Tip: Check the BOSTITCH BCN650D1 20V Nailer if you prefer an electric 15ga baseboard nail gun.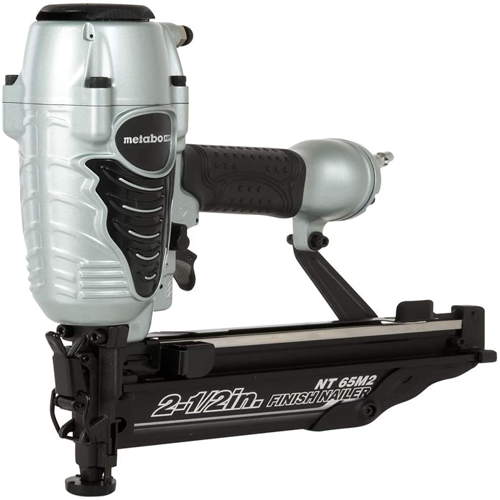 Metabo, formerly Hitachi, has this gem of a 16 gauge nailer for baseboards.
It packs a punch too, nails like a champ, and is very comfortable to nail with.
It's built to last and has everything you need for a professional baseboard installation job- an ergonomically designed easy flip switch for quick transitions between sequential and bump fire modes, a straightforward depth-of-drive dial, an easy-to-clear nose for quick removal of jammed fasteners, and more.
Quite a number of nice touches have been added with the highlights being the built-in dust blower and the factory-installed air fitting that has been angled upwards to make the compressor hose stay out of your way.
This pro grade tool is built small enough to easily fit in confined areas and is a pleasure to use.
Specs at a glance
Operating Pressure: 70-120PSI
Nail Capacity: 100 nails
Magazine Type: Top Loading
Magazine Angle: Straight
Nails: 16-gauge straight from 1" Up to 2-1/2"
Weight:7 pounds
Actuation: bump or sequential
Other features
Non slip elastomer grip trigger – enhances comfort.
360 degree, fully-adjustable exhaust port– redirects air exhaust away
No-mar tip – protects surfaces
Pros
5-year warranty.
Easy to maneuver.
Better priced compared with other professional level nail guns.
Cons
Wish it had a hook to hang it from your tool belt/pocket.
Tip: We recommend this PORTER-CABLE 20V 16GA Finish Nailer or the Paslode Cordless Finish Nail gun for battery-powered nailers enthusiasts.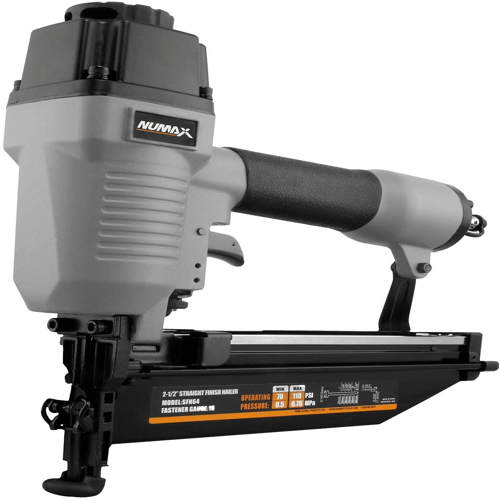 We're seeing some phenomenal cheap nailer deals lately with this precious 16 gauge nail gun leading the way for baseboard projects.
In fact, this is one of the best-selling units online this year.
And the good news is it's absolutely good- it's fairly lightweight, easy to load, and is utterly consistent with adjustments (the trigger can be adjusted to tweak nail depth) and pressure.
It shoots smooth and nails go flush- you can easily mistake it for a high-end nail gun.
It features a unique quick jam release (you'll be really lucky to experience jams) along with an extremely comfortable grip handle.
This nail gun comes in a durable aluminum body.
In a nutshell, this could be your best nail gun for baseboards if you don't want to pay over the odds.
Specs at a glance
Operating Pressure: 70-110PSI (requires 7.93SCFM with 100 nails/minute @90 PSI)
Nail Capacity: 100 nails
Magazine Angle: Straight
Nails: 16-gauge straight from 1" Up to 2-1/2"
Weight:5 pounds
Other  features
Sequential fire- accurately place fasteners, one at a time
1/4inch NPT fitting- fits countless air hose couplers
360 degrees adjustable exhaust- keeps air away.
Anti dust cap– keeps internal parts/components clean
one–piece driver blade- improves durability.
Pros
Holds up well.
Best price.
Quick to load.
Cons
Lacks driving power for heavy work.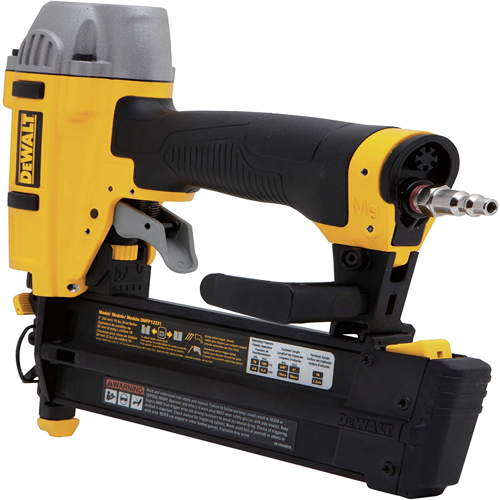 Dewalt tools are a delight and for a brad nailer for baseboards, this Dewalt DWFP12231 nailer impressed our team most.
Like most of its peers, it's comfortable, dependable, tough, and powerful.
The tool fires accurately and consistently and features a comfort-first design so it won't work your wrists even if you'll be wielding it for 8 hours.
It's very quiet and there's minimal kickback.
Plus, it's easy to load/use.
We also appreciate the pleasant depth setting.
The case is a big bonus too.
Specs at a glance
Operating Pressure: 70-120PSI
Nail Capacity: 100 nails
Magazine Angle: Straight
Magazine loading: Side
Nails: 18-gauge straight from 5/8 Up to 2"
Weight:65 pounds
Trigger: sequential style
Other features
Maintenance-free motor – longer life, inexpensive to maintain.
Tool-free jam release– for smooth nail removal.
Rear exhaust- keeps contaminants away.
Non-marring nose tip –removable.
Adjustable belt hook- you can keep it near.
Pros
No air leaks.
Should last for years.
One can easily see where the fastener goes.
Cons
Wish the depth setting knob was in a different spot though
Tip: Here is the best nail gun for baseboards (18 gauge) if you don't have a compressor.
Final thoughts
After using any of these nail guns, you'll never want anything to do with a hammer!
Remember to match your nail gun to the correct air compressor – if you have selected an air tool- for sleek performance.
Luckily, any small compressor should be fine for nailers since they don't use much air.
So, what is your pick for the best nail gun for baseboards?
Let us know in the comments.
ALSO READ:
Can you use 18 gauge nails in a 16 gauge nailer? Comprehensive answer
Best corded electric brad nailer –reviews and recommendations