As an Amazon affiliate, we may earn a small commision from qualifying purchases.
With the best corded electric brad nailer, you don't need to jerk around with batteries, charging them. Pick one from our reviews below…
While cordless brad nailers are typically more portable, corded nail guns have their place.
For example, a corded brad nailer is almost always more powerful and is the better choice for jobs where driving power is a key concern such as when driving brads longer than 1 ½ ".
Their setup process is also quicker and smoother.
Here are our 3 nominees for the best corded electric brad nailer to help point you in the right direction, if you have narrowed down your choices to a corded electric brad nailer.
Best corded electric brad nailer – our top 3 recommended picks
Now, these brad nailers are increasingly becoming rare as most manufacturers seem to prefer the faster-selling battery-powered brad nailer along with the air-powered models.
Luckily, there are a couple of amazing ones left in the market.
We recommend three of these quality nailers to those shopping for the best corded electric brad nailer (read each review to understand our reasons)..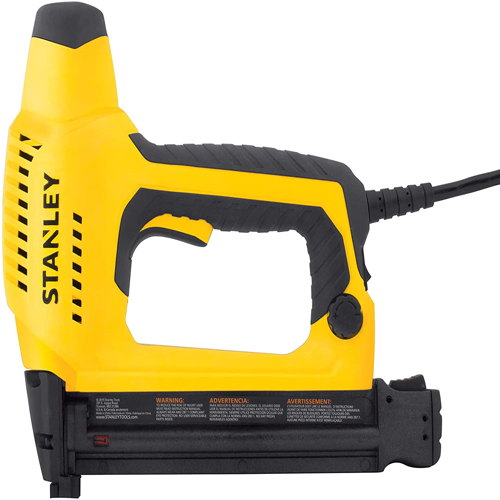 We rarely say this about many nailers because you often find a weakness with most of them, but we do not think the Stanley TRE550Z Electric Brad Nailer can realistically be improved upon much.
It operates flawlessly, it's precise, ergonomic, and most importantly, powerful enough to drive 1.25" brads – and sink them- completely even into hardwood (though it's officially designated for 5/8" to 1" 18-gauge brads).
This actually delivers more power than other corded brad nailers we come across during our research and works perfectly for baseboard, trim projects, as well as floor projects.
At a glance:
Brad-empty indicator- helps keep the job flowing.
Two variable power settings (Hi/Lo)- switch to max or reduced force with a simple turn of the dial.
8′ cord- where necessary, do not use a low-gauge extension cord because it will make the nailer weaker causing it to struggle to punch nails all the way in.
Easy-slide load magazine- loading brad nails is a piece of cake.
Easy-jam-clear mechanism- you spend less time removing jammed brads (it doesn't jam frequently anyway).
Pros
Shoots longer brads with a minimum of fuss.
Good price.
Pretty lightweight.
Cons
Doesn't include starter brads – you'll have to order separately.
What else do I need to know?
If you want to sink in the brads more quickly, apply some pressure to the back of nail gun head as you sink them- the extra force helps push them in more quickly and efficiently.
Verdict
This is you go-to corded electric brad nailer if you frequently shoot longer brands and you want maximum driving power.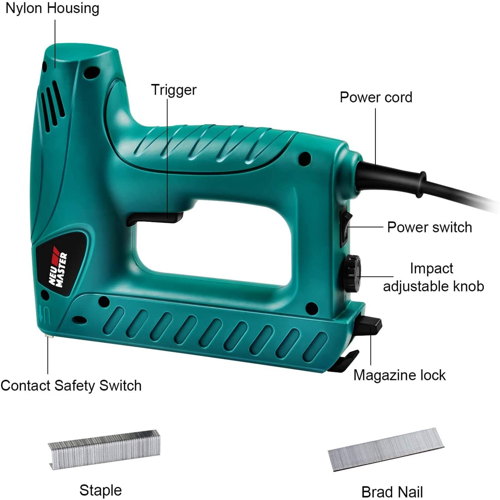 We can't say enough fantastic things about the Neu Master corded electric brand nailer/staple gun, and not because others have been swearing by it- Nope! It's because this wonderful brad nailer staple gun combo is the closest we came to perfection during our research.
It's not only one of the best 2 in 1 brad nailerstapler tools but also one of the easiest to use brad nailers.
It feels quite safe and sturdy, is very well built, and is absolutely a pleasure to fire brads with.
At a glance:
Ergonomic grip– Solid molded rubber grip makes it great even for folks who cannot use other nail guns because of age-related complications such as arthritis
Safety first construction- Features a contact safety switch to prevent unintentional firing.
Friendly depth adjustment- Use the nice power knob to adjust penetration power to suit the material you're fastening.
High quality cord- The cord is heavier and of excellent quality (6.5m).
Compact – The small size allows you to get into tight spots without breaking a sweat.
Pros
Easy to reload brad nails thanks to the easy magazine release.
Well written instructions.
Drives nails all the way into the wood.
Cons
Does not accommodate longer brad nails (see the next paragraph).
What else do I need to know?
The tool comes with an initial supply of nails and staples (336 pieces staples and 200 pieces nails) so it's good to go right off the box.
Keep in mind that the nailer fires TRA700 series or T50 series Staples from 5/16" to 5/8" and 18-gauge brad nails from ½" to 5/8'".
Verdict
This brilliant combo nailer does the job as well as more expensive tools would and has a top quality power cord to make your life easier when tackling your indoor projects.
Its low price point makes it a steal.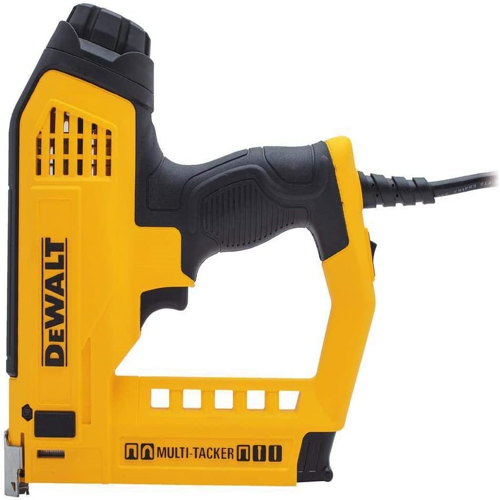 We recommend this brad nailer/multi-tacker gun for small projects such as nailing two 1×2 pine boards together using 5/8" 18-gauge brads (it takes brads up to 5/8").
It actually shoots 5 different types of nails and staples- Heavy Duty, Cable, and Narrow Flat Crown staples in addition to 18-GA brads and 18-GA headless pins.
This is the best tool for all light-duty nailing/stapling tasks including attaching lightweight trim using brads, installing carpets/sheets of insulation, foam cove molding jobs, and more.
At a glance:
Two impact settings (low/high)- Change to the right setting to ensure effortless penetration.
Contact-Trip Switch-Only allows a brad nail/stapler to shoot if pressed against work surfaces.
Bottom-loading – The Dewalt 5-in-1 tacker is bottom-loading hence user-friendly.
Built for the long haul – The build quality has no obvious flaws.
Long 8 feet cord
Pros
Simple to use.
Slams brads flush with wood surfaces.
Superior quality equipment.
Cons
The instruction manual has been printed in a small-ish font and it's difficult to read with naked eyes.
Struggles noticeably when nailing into pressure treated wood
What else do I need to know?
Use the power adjustment dial to select the appropriate force and depth based on the type of materials you're working on (thick/delicate materials).
Verdict
This is an outstanding brad nailer for thinner attachments – its super lightweight and has sufficient power for a sea of smaller projects.
It could the best way to cut out the cost of a compressor and pneumatic gun.
Best corded electric brad nailer -Purchasing Considerations
Like other nailers, perhaps the most important consideration when it comes to corded electric brad nailers is the power with which it drives brads.
Of course, electric nailers will never go anywhere near pneumatic models but you'll need decent driving power especially if you regularly drive long nails through hard materials.
Other useful factors to watch out for include low recoil action on firing, the ergonomics of both the trigger and handle, and low-to-empty indicator (it will save you lots of annoyance).
Also pick a device with a feature that allows you to change the depth of drive and with adequate safety features to protect from accidental firing and other hazards.
A lightweight, well-balanced brad nailer is also the way to go.
Final thoughts
The best corded electric brad nailer is a handy alternative to battery power, purchasing or renting an air compressor for a classic pneumatic nailer.
Select your most ideal model from the 3 choices we have reviewed above and enjoy the ultimate convenience.
Safe woodworking to all.
ALSO READ: