As an Amazon affiliate, we may earn a small commision from qualifying purchases.
For the most part, the best tool for nailing quarter-round is a brad nailer.
Brad guns shoot thinner nails from the smaller 5/8-inch to 2-inches, which are fine for attaching light moldings such as quarter rounds – you don't want to split the molding or leave visible holes.
Plus, because they have heads (unlike the pins shot by 23ga pin nailers), 18ga brads have better holding power and we recommend a quality 18ga brad nailer for quarter round projects over a pin nailer.
That said, a finish nailer may be more suited when fastening quarter round molding if you're tackling thicker baseboard- you'll need extra length and finish nail guns fire up to 2-1/2″ nails.
If this is the route you'll take, a 15 ga finish nailer would be the best nail gun for quarter round since the 15 ga nails are larger which makes them ideal for nailing into bigger baseboards.
Keep in mind that an angled 15 ga finish nailer reaches into tight spots better than straight finish nail guns.
However, the head of finish nails is larger so they tend to leave larger marks and you'll require to do more putty work.
Here is the most important take away: a brad nailer is what the doctor often orders for quarter round and could be the best option to speed up your job.
And the good thing is that besides installing quarter-round, shoe molding, and baseboard, your 18 ga nailer work wells too when you want to nail shiplapped boards.
Best Nail gun for quarter round – our top picks
With that out of the way, here now are our most recommended nail guns for quarter rounds to help you shop for the best nail gun for quarter round…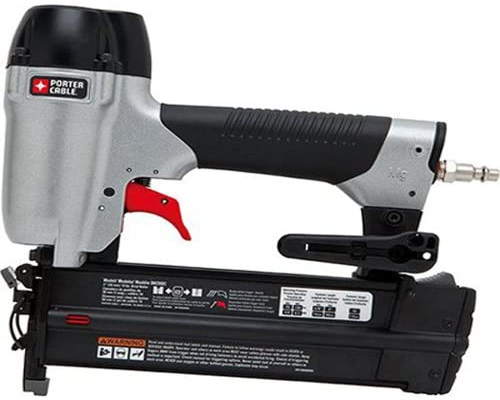 You can trust this nailer specifically for your quarter round projects.
It's quite easy to use and works great- It fires and sinks the brands superbly when your compressor reaches the required pressure.
We especially love the friendly depth adjustment feature and we are also happy that the gun will alert you when to reload (it's equipped with a handy low nail re-load indicator).
The magnesium body makes the tool lighter than most and it feels pretty comfortable thanks to the nice rubber grip.
And oh, it comes with a cool case!
This is an excellent yet inexpensive nailer that is both reliable and durable (the specially hardened driver blade lasts for years).
Specs at a glance:
Fasteners range: 5/8″ to 2-in
Fastener type:18 ga. Brads
Firing modes:sequential fire
Magazine capacity:100 nails
Operating pressure:70-120psi (¼" air-fitting included)
Weight:6 lbs
Other notable features:
Maintenance-free motor (oil free)
Easy jam release mechanism
Rear exhaust
Adjustable belt hook
Non-marring nose tip (removable)
Sequential style trigger
Contact safety right behind the driver guide for enhanced visibility
Pros
So easy to use.
Rarely jams or have other issues at all.
Cons
No major weakness to pinpoint.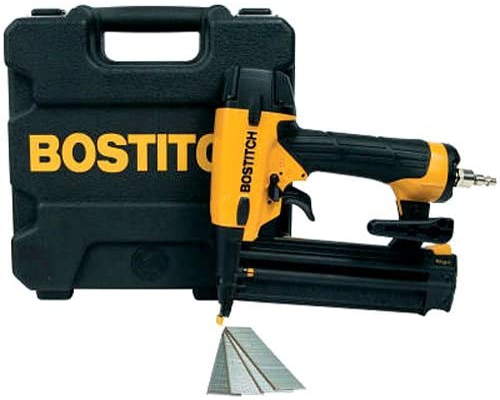 This is the best pro grade tool out there.
It sinks Brads effortlessly and it really doesn't matter the surface!
It beats the porter cable in a number of areas.
For example, the trigger here feels better.
Additionally, we feel that it tops porter cable as far as the quality of materials and durability is concerned.
And while the porter cable brad nailer is more user friendly, this is still easy to aim even in tighter spaces.
Plus, the small guide helps you clearly see precisely where you're placing your brad.
Its lightweight as well (its just 2.7 lbs).
Other highlights include the rear muffled exhaust, swivel air-hose fitting, oil-free operation (no staining your work), belt hook with a pencil sharpener, easy side-load nail clip, anti dry-fire feature (no firing without brads), and low-nail indicator.
Overall, it's probably overkill for homeowners but an absolute gem for pros.
Specs at a glance:
Fasteners range: 5/8″ to 2.125-in
Fastener type:18 ga. Brads
Firing modes:sequential fire/bump-fire mode
Magazine capacity:110 nails
Operating pressure:70-120psi (¼" air-fitting included)
Weight:7 lbs
Other notable features:
Overmold grip.
Dial-A-Depth control -for accurate countersinking.
Pros
Countersinks brads effortlessly.
Good power delivery.
Small and accurate.
Cons
Clearing jams takes tools and time.
Lacks a no-mar pad.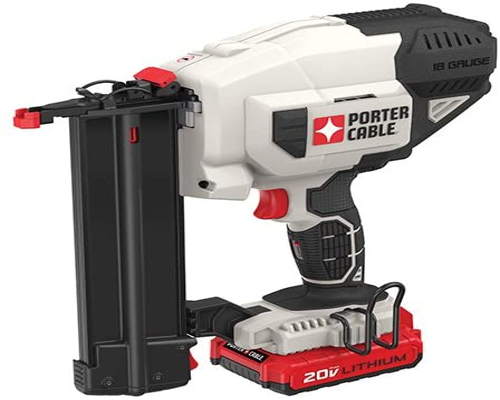 Porter-Cable nail guns are widely respected and this PORTER-CABLE 20V Brad Nailer is our most recommended tool if you want to go electric.
It does the job on quarter-round mouldings without any hiccups and has lots of things its competitors don't have including countless tool free settings for a quicker job and your safety..
In short, this has everything you'd ask of a brad nailer – a fantastic depth control, toolfree jam removal, functional safety lock, and useful LED light to light up workspaces.
In fact, we feel that this is probably the best priced electric nail gun for quarter round with all the features needed for the task.
It's super easy to use and comes with one hell of a battery on it!
Additionally, the trigger function is straightforward and consistent while the brads load effortlessly and feed smoothly.
We can't be happier!
Specs at a glance:
Fasteners range: 5/8″ to 2-in
Fastener type:18 ga. Brads
Firing modes:sequential fire
Magazine capacity:100 nails
Battery:20v Lithium-ion.
Weight:9 lbs
Other notable features:
Trigger lock-off
Integrated belt hook
No mar pad.
Depth adjustment window.
Use-friendly stall release lever.
Pros
Consistent firing power.
Comfortable to use.
Great battery.
Cons
Heavier than the above air-powered nailers because of the heavy-duty motor.
Nail gun for quarter round – frequently asked questions (FAQs)
What size brad nails for quarter round
In general, 1-1/4" or 1-1/2" nails in a 18-ga brad nailer is probably all you need- they're thin enough not to split the quarter-rounds and penetrates long enough to properly anchor the molding.
Wrapping it up
The nail guns we have reviewed here are very good when it comes to putting up quarter-round!
Choose your favorite depending on your specific needs.
One more thing: Watch for deals-you could pick up your favorite nailer for a song if you make your purchase during a promotion.
RELATED: