As an Amazon affiliate, we may earn a small commision from qualifying purchases.
When it comes to framing, a cordless framing nail gun might be all you need..
Of course, it is very portable so you can use it to scale up buildings and frame at different positions without hauling heavy air compressors all over the place.
Besides, there are no cords/hoses to tangle you/get in the way.
In this article, I will take you through our 3 top picks as regards cordless nail guns for framing to help you make the right choice if you're shopping for the best cordless nail gun for framing…
Let us do this..
Best cordless nail gun for framing – our top 3 picks
Before we look at our reviews of the best cordless framing nail guns, it is important that I mention that you will want to purchase one that comes with a battery and a battery charger.
You'll obviously save a lot of money by going for an all-in-one set rather than buying the battery and charger afterward.
Here comes our 3 favorite choices now..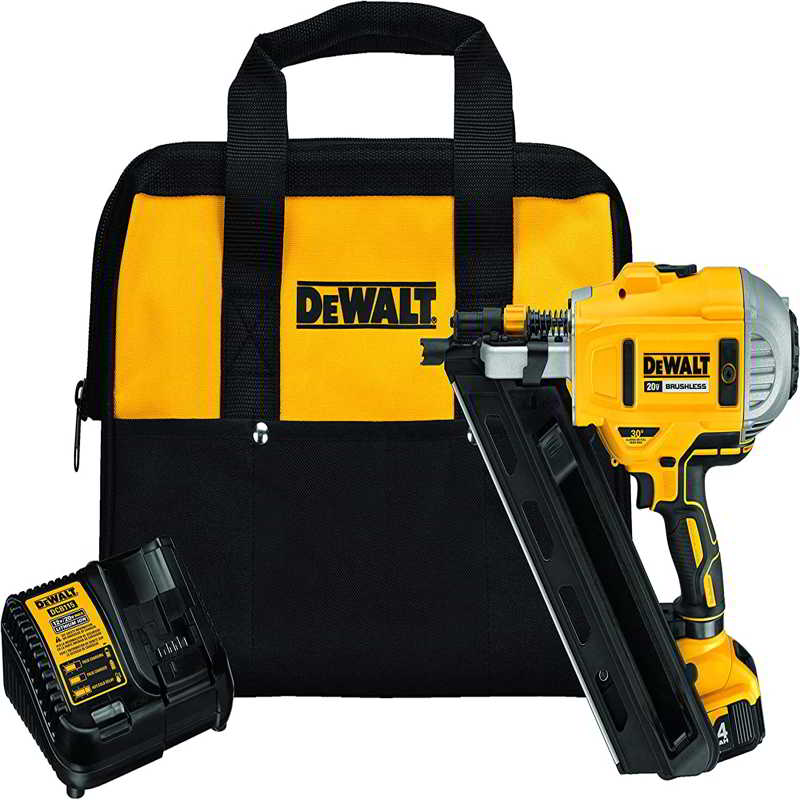 This is actually our favorite for  small-to-medium framing jobs –it's super quick and compact not to mention that you get Dewalt's reliability and toughness.
Most importantly, it works flawlessly- it seldom misfires or jams neither does it bend nails. It also drives the nails all the way (in most circumstances).
It's easy to use too – and even loads quickly (but be sure to read the included operating instructions first).
The 4 Amp battery is great as well and can hold charge for a full day's use.
I should say that this is for heavy use- it is known to go for 2-3 days for light and medium use(it recharges in just 2 hours).
And the 7.8 lbs. weight is quite reasonable and won't tire your muscles that fast.
Also, this nail gun comes with its own high-quality, spacious, and masculine bag to carry your charger, nails, and the gun itself.
Just to add, this popular cordless framing nailer comes with a 3 year warranty, 1 year of free service, and a 90-day money back guarantee.
In a nutshell, it is a top notch framing nailer and it is unlikely to let you down.
Summary of key specs
Loading type:Paper Strip
Loading capacity: up to 55 fasteners (33degree magazine)
Fasteners accepted: 2 in to 3-1/2 in (with smooth & ring shank)
Voltage: 20 volts.
Battery: 4-Amp
Dimensions: 18.5×6.88×15.56 inches.
Weight:8lbs.
Others: Tool-free selector switch (for bump-fire or sequential modes), Tool-free depth adjustment (helps in precise nail placement), Stall release lever (quickly resets driver blade case there's a jam), Dry fire lockout (prevents it from firing when it's low on nails)
Pros
Very durable- It is made of stainless steel
No mar tip to protect your wood from damage
The nosepiece is easily accessible to allow easy removal of any jammed nails.
Cons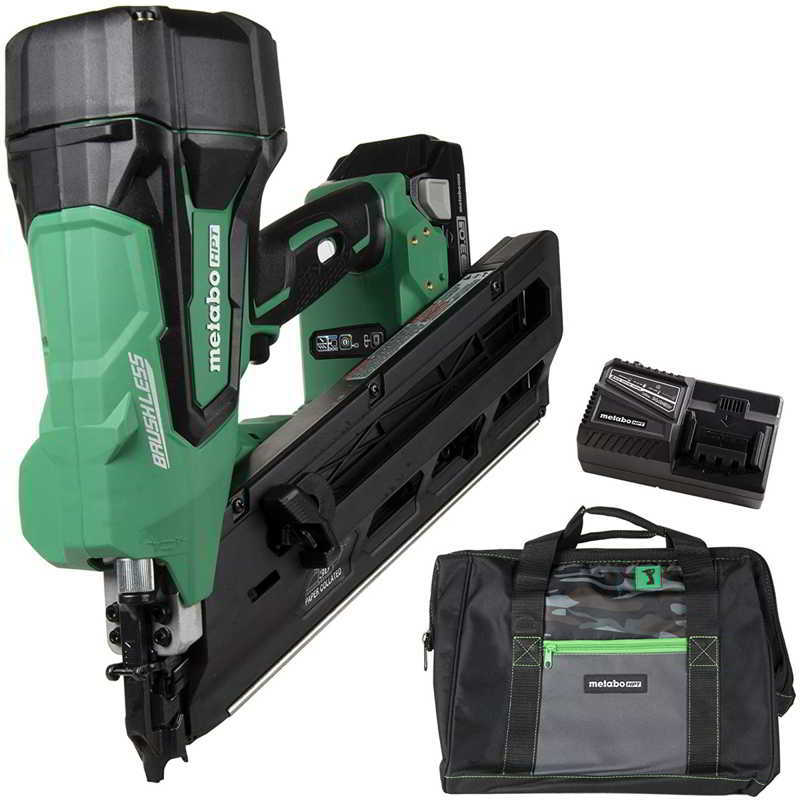 Thanks to the innovative air spring drive system in this nail gun, it delivers more than enough power to flush drive 3.50" by 0.131" nails or offset the round head nails into the toughest lumber.
Get this: There's recoil in this brilliant nailer again due to the unique piston/air system!
Indeed, it is no exaggeration to say that this feels quite close to a pneumatic nailer meaning it can be a fantastic option even for pros who do loads of framing – it really makes your life soooooo much easy.
In truth, it buries every nail with no issue…and just like a pneumatic, you can use it on bump fire(and no nail will resist it!)
Bear in mind that this framing nailer will only accept 30 to 34-degree paper collated framing nails (clipped head/or offset round) from 2-3/8 X.113 up-to 3-1/2 X.131
Oh, and this nailer makes a nice noise when you shoot with it (the sound is one of the little extras that makes it well-liked).
Okay, the battery is not as powerful as with the Dewalt framing nailer (4AH vs. 3AH) but it can still fire 400 nails (maximum) on a single charge- This is good enough to frame a great portion of any large-sized structure.
The other minor downside is that it's a bit heavy – but do not let that blind you from the countless good features this nailer packs.
And we love that it's more affordable compared to our previous 2 recommendations.
Summary of key specs
Voltage: 18 volts.
Dimensions:5x5x12.18 inches.
Weight:9 lbs.
Magazine capacity: 47
Fastener length: 2" to 3 ½"
Loading type: paper-strip
Fastener type: 30-degree clipped/ offset head nails.
Battery: 3-Amp
Battery charge time: 45 minutes.
Others: tool less depth-of-drive adjustment, impressive air-spring drive system (gives it pneumatic-like feel), easy switching (from bump to sequential/vice-versa), zero ramp up(just pull the trigger – it will shoot the fastener)
Pros
Hardened claw tip to minimize slippage when toe-nailing/driving nails at an angle.
Handy battery charge indicator to show available power.
More affordable pricing.
Cons
The weight can make the nail gun tiring especially if you're framing for long periods.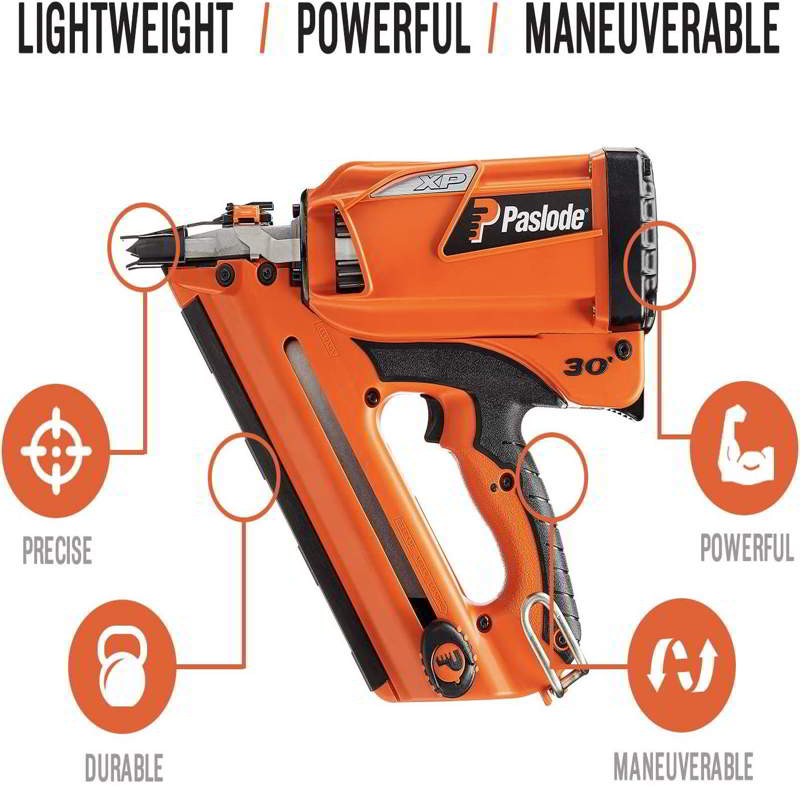 Paslode never disappoints and they once more have an excellent battery-powered framing nail gun in their Xp framing nailer.
From being incredibly lightweight (it weighs just 7.2 lbs) to a super compact build (nobody fits better when it comes to the tightest spots), this nailer has everything you could want in a cordless nailer.
In short, we were not just awed by the unmatched ergonomics (it feels so pleasant in the hand) -there's a lot more we like in this nail gun including how it shoots (It shoots fasteners all the way effortlessly).
Loading fuel and the nails is pretty fast and easy too.
Remember that this nailer is designed to work in insane temperatures even about 0° Fahrenheit (and that's where paslode all-season fuel comes in)– you might be aware that the compressor and hose-setup cannot work under such extreme conditions.
Just to be clear, this nailer does not use voltage to fire nails- It uses voltage to ignite fuel and it's the fuel that fires the nail.
The battery charges quickly and stores charge alright (you'll frequently enjoy the power to nail all day).
And yes, it is easy peasy to use as soon as you figure out how to put in the gas.
We also love the hard case -it is very well organized and sturdy.
Summary of key specs
Voltage: 7.4 volts.
Dimensions: 12x4x14.5 inches.
Weight: 7.2lbs.
Magazine capacity: 50
Fastener length: 2" – 3 ¼".
Loading type: paper-strip.
Fastener type: 30-degrees paper tape clipped head nail.
Battery charge time: 90 minutes.
Pros
Immensely lightweight.
Rugged nailer- should last for years
Fast loading of gas and nails.
Cons
The fuel canister is sold separately (you can just purchase a couple of canisters and put them in the designed spot in the case)
Maintenance is the main issue with the Paslode- the gas cartridges typically drains down fairly often and you will often find yourself needing new ones.
Best cordless nail gun for framing – 21 degree cordless framing nailer recommendations
All the nailers I have suggested above are 30-degree yet you could be looking for a 21 degree framing nailer.
Side Note: Don't worry if you do not know much about the two framing angles..Go through our 21 vs 30 degree framing nailer  guide. It will help you decide what degree nail gun is best for your framing project..
Now, below are the two 21-degree cordless framing nailers we like most here at nailerspro.com in the event that you have settled on a 21-degree cordless framing nailer..
Wrapping it up
Our number 1 recommendation for the best cordless nail gun for framing is the Dewalt framing nailer (30 degree framing nail gun)  as it is truly quick and compact.
For 21-degree framing nailers, we love Metabo 21 degree Cordless Framing Nailer because of its unparalleled reliability.